James Bowen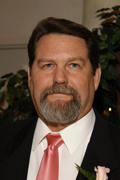 Principle
Mr. Bowen has a long and distinguished career in private security. He first began his work in the field in 1986. He has hundreds of hours standing post in both physical asset protection and executive protection. In 1988 he became a partner in a private patrol company (PPO). His experiences as both a security officer and PPO underscored the need for substantial, comprehensive and practical training for all security officers. In 2004 he made the switch and began teaching security officers full-time.
Mr. Bowen is also one of the most respected NRA Firearms Counselors in the United States with thousands of firearms instructors and students trained under his practiced eye. He is also a certified concealed firearms permit instructor for three states: California, Utah and Florida.
Mr. Bowen owns and operates multiple physical security officer training facilities in the Los Angeles area and the premier online California security officer system. It is rare for him to enter a secured facility and not recognize one of his students on patrol.
Credentials
Academic
A.A., Criminal Justice
Certified Firearms Training Counselor:

Pistol
Shotgun
Rifle
Muzzle Loading Pistol
Muzzle Loading Rifle
Muzzle Loading Shotgun
Personal Protection In The Home
Personal Protection Outside The Home
Chief Range Safety Officer
Refuse to be a Victim
Metallic Cartridges Reloading
Shot Shell Reloading

National Rifle Association
BSIS

Training Instructor - Firearm
TIF 1646

Training Instructor - Baton
TIB 1662

Certified Security Professional with firearm, baton and pepper spray.
G 1512576, 284898, 52347

California Bureau of Security and Investigative Services.

CCW
Instructor, California CCW
Instructor, Utah CCW
Instructor, Florida CCW
Firearms Competition
Competed in Rifle Metallic Silhouette Shooting Sports
Invited as a Guest Of the Government in Mexico
Shot both State and National Matches
Slow Fire Pistol Matches (State)